Thank you for your inquiry. We will reply asap
Two Day Shanghai Private Tour
Why choose a private sightseeing tour. Group tours can be a headache for independent travelers – meeting at a central location to start the tour, schedules that are rushed, guides that don't cater to your interests, forced stops at gift shops, and so on. A private sightseeing tour lets you take in all of Shanghai's vibrant culture in your own private chauffeured car, perfect for small groups that like freedom and relaxation in their travel.

What you get. Enjoy a relaxing day of sightseeing in a clean, new chauffeured car. Your driver will greet you at your hotel lobby, take you directly to each location and wait on standby as you enjoy each site at your leisurely pace. When finished, your driver will take you back to your hotel.

Tour Itinerary Day 1: Yuyuan Garden, Confucius Temple, The Bund, Nanjing East Road Pedestrian Street, Shanghai Museum / Shanghai Urban Planning Exhibition Center. Entrance tickets and meals are to be covered at your own expense.

Tour Itinerary Day 2: World Financial Center or Shanghai Oriental Pearl TV and Radio Tower, Xintiandi, French Concession, Flower & Birds Market, and Dongtailu Antique Market. Entrance tickets and meals are to be covered at your own expense.

Add a guide. Add a professional, fluent English, friendly guide to enhance your tour experience. Guides will introduce to you the rich history behind each site, answer all your questions and otherwise be at your disposal for recommendations, suggestions or assistance.

Get Started! Please select some or all of the places from the itinerary which you'd like to visit for your sightseeing tour for each day, and select a tour guide if you'd like one (recommended). Then send us your inquiry to book your sightseeing tour within minutes!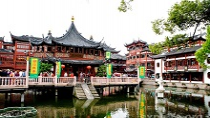 YuYuan (Yu Garden) (Day 1)
Located in the northeast section of Shanghai Old Town, YuYuan was created in 1559. This famous classical garden is a majestic yet peaceful area to wander with dozens of scenic spots, pavilions, halls, rockeries, cloisters and ponds. The garden is divided into six charming sections - Sansui Hall, Wanhua Chamber, Dianchun Hall, Huijing Hall, Yuhua Hall and the Inner Garden.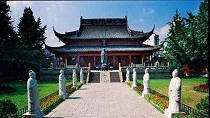 Confucius Temple (Day 1)
Shanghai's Confucian Temple is an ancient temple built to honor Confucius (BC 551-479), the thinker and educator whose ideas still hold enormous influence over Chinese family and social relations. Built over 700 years ago in the 1300's, a sense of tranquility is reflected beautifully in its architecture... a real haven of peace in an otherwise bustling city downtown.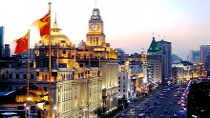 The Bund (Day 1)
A symbol of Shanghai, The Bund is one of the city's most famous tourist areas. On Huangpu River's west bank, it is a stretch of real estate where major banking and trading firms from all over the world once operated. The historic area houses over 50 buildings of various architectural styles, and offers the most stunning uninhibited view of Shanghai's dominant Pudong District skyline.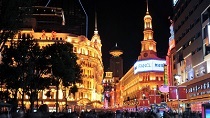 Nanjing Road East Pedestrian Street (Day 1)
China's most famous, and one of the world's busiest, shopping streets is Nanjing Road, a 5.2km long road connecting Jing'An Temple in the West and The Bund in the East. It features over 600 businesses, showcasing Shanghai's oldest and largest department stores, Central Market, upscale specialty stores, theatres and international hotels.
Shanghai Museum / Shanghai Urban Planning Expo Center (Day 1)
Shanghai Museum is an incredible museum of ancient Chinese art. The museum has a collection of over 120,000 pieces, including bronze, ceramics, calligraphy, furniture, jades, ancient coins, paintings, seals, sculptures, minority art and foreign art. The Urban Planning Expo Center displays the urban planning and development with a stunning large-scale model of Shanghai.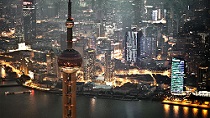 World Financial Center or Oriental Pearl TV & Radio Tower (Day 2)
Nicknamed the 'bottle opener' for its unique design, The World Financial Center is the tallest skyscraper in Shanghai at 492m. View incredible panoramic views of Pudong & Puxi from its observatory (see photo). Or take in the view of Puxi & Huangpu River from the iconic 'pearl of Shanghai', the Oriental Peal TV Tower, designed after twin dragons playing with pearls.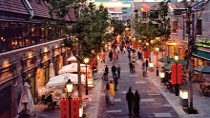 Xin-Tian-Di (Day 2)
An affluent car-free sopping, eating and entertainment district of Shanghai, Xintiandi is composed of an area of reconstituted traditional stone houses on narrow alleys. A romantic setting against traditional China backdrop, the strolling the streets of Xintiandi you will find excellent choices of Western cuisine and cafes with indoor and outdoor seating.
French Concession (Day 2)
With its distinct charm and unique character, the French Concession is a top tourist destination for travelers visiting Shanghai. Originally established as French territory for French settlement within Shanghai in the 1800's, it is today a quaint residential walking area with shady lanes, cobblestone sidewalks and lots of restaurants, bars, and shops set within old and new European and Chinese architecture.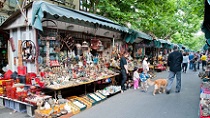 Dongtailu Antique Market (Day 2)
The best market for 'authentic' souvenirs and gifts, explore stalls selling everything from Mao era memorabilita, revolution era antique porcelian and all other manner of trinkets and vintage goods. The sheer experience of walking down this market alley is something to behold.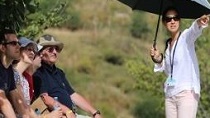 Add A Private Guide - Two Days, Only $225 (Org. Rate $318)
A private, friendly, experienced fluent English guide to escort you can make all the difference when visiting a cultural site, introducing you to the history and answering all your questions.

Vehicle
Class


Vehicle
Type


2 Day Shanghai
Sightseeing Tour
(Includes Up To 8 Hours
Of Total Service Time)

Add Private English
Speaking Guide
25% Off



Best Value All-Inclusive Price! Price is total package rate, not per person.




Business Sedan
(<3 Guests)

VW
Passat
$345.00
All-Inclusive
Only +$225
(Normal Private
Guide Rate $318)

Business Minivan
(<6 Guests)

Buick
GL8
$345.00
All-Inclusive

Notes:
All prices are in US Dollars. Prices are all-inclusive, except for purchase cost of any tickets or meal for guests.

Prices do not include the purchase cost of any tickets or meals for guests.

Free waiting time for hotel pickup is 15 minutes.

Extra hourly rate for chauffeured car of $20/hr applies for service in excess of 8 hours total.

Extra hourly rate for private guide of $20/hr applies for service in excess of 8 hours total.

A surcharge may apply for service between 00:00 to 07:00.