Thank you for your inquiry. We will reply asap
One Day Shanghai Private Tour
Why choose a private sightseeing tour. Group tours can be a headache for independent travelers – meeting at a central location to start the tour, schedules that are rushed, guides that don't cater to your interests, forced stops at gift shops, and so on. A private sightseeing tour lets you take in all of Shanghai's vibrant culture in your own private chauffeured car, perfect for small groups that like freedom and relaxation in their travel.

What you get. Enjoy a relaxing day of sightseeing in a clean, new chauffeured car. Your driver will greet you at your hotel lobby, take you directly to each location and wait on standby as you enjoy each site at your leisurely pace. When finished, your driver will take you back to your hotel.

Add a guide. Add a professional, fluent English, friendly guide to enhance your tour experience. Guides will introduce to you the rich history behind each site, answer all your questions and otherwise be at your disposal for recommendations, suggestions or assistance.

Get Started! Please select some or all of the places from the itinerary below which you'd like to visit for your day hire sightseeing tour, and select a tour guide if you'd like one (recommended). Then send us your inquiry to book your sightseeing tour within minutes! *Visiting all sites in the itinerary reduces the amount of time spent at each.

Tour Itinerary. 1. Pickup at hotel 2. Jade Buddha Temple 3. The Bund 4. Yu Garden 5. Shanghai Old Street 6. Xian Tian Di 7. French Concession 8. Shanghai Museum / Shanghai Urban Planning Expo Center 9. People's Square. 10. Return to hotel.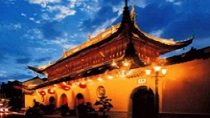 Jade Buddha Temple
The Jade Buddha Temple is a peaceful refuge from the modern bustle of Shanghai, where monks are seen and heard conducting Buddhist ceremonies. The magnificent Green Jade Buddha, and the stories that accompany the statues will surely impress, as will the purely authentic feel of this holy temple. A definite must-see.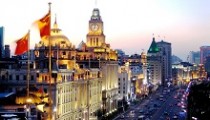 The Bund
A symbol of Shanghai, The Bund is one of the city's most famous tourist areas. On Huangpu River's west bank, it is a stretch of real estate where major banking and trading firms from all over the world once operated. The historic area houses over 50 buildings of various architectural styles, and offers the most stunning uninhibited view of Shanghai's dominant Pudong District skyline.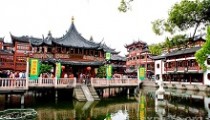 YuYuan (Yu Garden)
Located in the northeast section of Shanghai Old Town, YuYuan was created in 1559. This famous classical garden is a majestic yet peaceful area to wander with dozens of scenic spots, pavilions, halls, rockeries, cloisters and ponds. The garden is divided into six charming sections - Sansui Hall, Wanhua Chamber, Dianchun Hall, Huijing Hall, Yuhua Hall and the Inner Garden.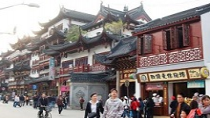 Shanghai Old Street
Jump back in time to an earlier dynasty in Shanghai's history. As far back as the 1300's you could find banks, gold shops, jeweler's stores, wine shops and tea houses in what is known today as Old Street. Today it maintains the characteristics of the Qing Dynasty and is a major hub for shops and cultural exhibits full of handicraft articles, paintings, calligraphies, jewelry and more.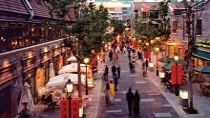 Xin-Tian-Di
An affluent car-free sopping, eating and entertainment district of Shanghai, Xintiandi is composed of an area of reconstituted traditional stone houses on narrow alleys. A romantic setting against traditional China backdrop, the strolling the streets of Xintiandi you will find excellent choices of Western cuisine and cafes with indoor and outdoor seating.
French Concession
With its distinct charm and unique character, the French Concession is a top tourist destination for travelers visiting Shanghai. Originally established for French settlement within Shanghai in the 1800's, it is today a quaint residential walking area with shady lanes, cobblestone sidewalks and lots of restaurants, bars, and shops with classic European and Chinese architecture.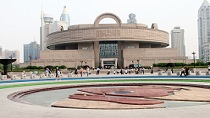 Shanghai Museum / Shanghai Urban Planning Expo Center
Shanghai Museum is an incredible museum of ancient Chinese art. The museum has a collection of over 120,000 pieces, including bronze, ceramics, calligraphy, furniture, jades, ancient coins, paintings, seals, sculptures, minority art and foreign art. The Urban Planning Expo Center displays the urban planning and development with a stunning large-scale model of Shanghai.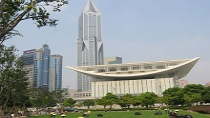 People's Square
Located at the very center of Shanghai, People's Park provides excellent views in all directions of Shanghai's downtown skylines. Flanked by Shanghai Museum to its South, Urban Planning Expo Center to the east, and Shanghai Theatre to its North, People's Square is a central meeting point where thousands of doves provide a peaceful and matronly atmosphere.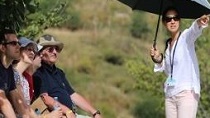 Add A Private Guide - Full Day Only $119 (Org. Rate $159)
A private, friendly, experienced fluent English guide to escort you can make all the difference when visiting a cultural site, introducing you to the history and answering all your questions.

Vehicle
Class


Vehicle
Type


1 Day Shanghai
Sightseeing Tour
(Includes Up To 8 Hours
Of Total Service Time)

Add Private English
Speaking Guide
25% Off



Best Value All-Inclusive Price! Price is total package rate, not per person.




Business Sedan
(<3 Guests)

VW
Passat
$180.00
All-Inclusive
Only +$119
(Normal Private
Guide Rate $159)

Business Minivan
(<6 Guests)

Buick
GL8
$180.00
All-Inclusive

Notes:
All prices are in US Dollars. Prices are all-inclusive, except for purchase cost of any tickets or meal for guests.

Prices do not include the purchase cost of any tickets or meals for guests.

Free waiting time for hotel pickup is 15 minutes.

Extra hourly rate for chauffeured car of $20/hr applies for service in excess of 8 hours total.

Extra hourly rate for private guide of $20/hr applies for service in excess of 8 hours total.

A surcharge may apply for service between 00:00 to 07:00.